DR TAMMY LAI-MING HO HONOURED WITH YOUNG ARTIST AWARD IN LITERARY ARTS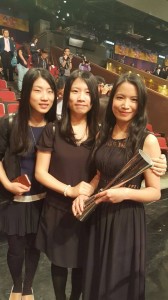 Dr Tammy Lai-Ming Ho (right) with her two sisters at the Hong Kong Arts Development Award presentation ceremony (21 April 2016)
Dr Tammy Lai-Ming Ho won the Award for Young Artist in Literary Arts at the Hong Kong Arts Development Awards 2015. In response to receiving the award, Dr Ho expressed her gratitude to her publisher at Chameleon Press, Peter Gordon, and her editor, David McKirdy, for their persistent efforts in helping her put together her first collection of poetry, Hula Hooping. She also thanked the editors and guest editors who have worked with her on Cha: An Asian Literary Journal over the past eight years, in particular her co-editor Jeff Zroback and Reviews Editor Eddie Tay, as well as the many writers and artists from Hong Kong, other Asian regions and overseas, who have contributed to her Hong Kong-based online literary journal.
She extended her gratitude to the staff and students at the Department of English, saying 'The Department of English here at Baptist is a very encouraging and nurturing environment. It allows me time to undertake creative writing work in addition to teaching and research.'
Dr Ho also acknowledged the continued and unwavering support of her early mentors Professor Douglas Kerr and Professor Shirley Geok-lin Lim.
Lastly, she thanked her parents, sisters and brothers-in-law for their unfailing patience and love.
On English creative writing in Hong Kong, Dr Ho commented, 'It is indeed not easy to "do" English creative writing in the city, especially after the handover. Over the last two decades (next year is the 20th anniversary of the handover), we have seen the diminishing influence of English in Hong Kong. But I still firmly believe that there is room and demand for English creative writing and cultural work, as we have a group of very enthusiastic writers, editors, translators and educators working together in the city.'
Dr Ho wishes to continue to introduce Hong Kong literature to the world and promote the exchange of ideas between Hong Kong and other parts of the world.
The Hong Kong Arts Development Awards 2015 was organised by the Hong Kong Arts Development Council with the honours presented to acknowledge arts practitioners who have achieved excellence in their respective art forms. The award presentation ceremony was held on 21 April 2016.
(April 2016)